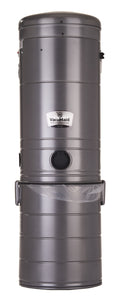 The VacuMaid Model SR46 central vacuum cleaner is our go to machine.  The machine is made out of corrosion resistant galvannealed steel and is powder coated.  Removes dust and allergens and is great for allergy sufferers.  Easy to install.  Includes wall inlet on the front of the machine.  It covers any size home up to 9500 square feet.  If you want awesome suction power and a machine that will last for many years, select the VacuMaid model SR46. 
6.6"   2 Stage by pass tangential motor. 
132" of Water Lift. 

139CFM 
60dB
27 Quart dirt container. 
Measures:  39 7/8" x 12 7/8" 
This machine has the option to be used with a vacuum bag or it can be used without.  Proudly made in the United States of America in Ponca City, Oklahoma and carries a 10 year warranty.